As a parent, your schedule is already busy, and back-to-school season means new challenges just getting food on the table. Breakfast needs to be that perfect mix of easy, fast, and nutritious to help your kids get out door on time while having the energy to be active and engaged in class. Dinner also gets to thread the needle: easy to prep and serve so that no matter how many clubs and sports your kid participates in, there's always time for family dinner.
At CompareMealDelivery.com, we're committed to researching America's best meal delivery companies. For this article, we focused our taste buds and sought out the most family-friendly meal delivery companies out there. And when we say "family-friendly," we don't just mean wipe-the-plate delicious; every company included on our final list of five was chosen to help make your busy schedule a little more manageable.
So, whether you're looking to provide nutritious meals in a flash, save money on groceries, or bring your kid into the kitchen, our list of meal delivery companies is sure to feature one that's right for you and your family.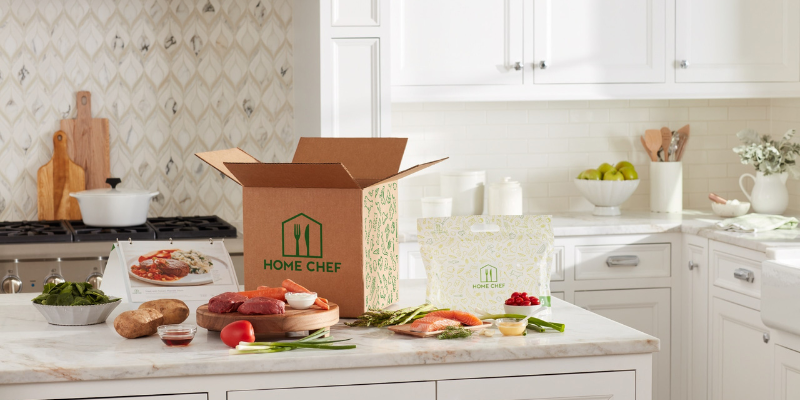 Home Chef
Back-to-School Deal: 16 Free Meals + Free Surprise Gift
Highlights:

Choice of 30-minute, 15-minute, or ready-made meals
Add meals, edit ingredients, or skip a week anytime
Every meal includes fresh ingredients, with recipes designed by real chefs

Best Overall Meal Kit for Families
You've probably heard of Home Chef before, and that's a good thing! Rated as the most popular meal delivery company due to its ingredient quality and fun menus, Home Chef ships boxes of pre-portioned ingredients each week along with step-by-step instruction booklets.
We rate Home Chef as the Best Overall Meal Kit for Families because of its high quality of ingredients, varied menu selection, and especially its easy-to-follow cooking process.
Dinners can be completed from out of the box to onto the table in about 30 minutes, or even less if you choose one of the ready-made options. That short window of time is the perfect opportunity to include your entire family into the kitchen.
Does tonight's Chorizo with Salsa Verde Omelet call for half a dozen eggs? Ask your kid to crack the eggs while you chop. Making Cajun-style Pasta? Ask your teenager to roll, season, and cook the meatballs while you prep the pasta.
In addition to 30-minute meals, Home Chef offers speedier entrees. For a quick family meal before tonight's softball practice, try a 15-minute oven-ready meal, like a Tomato and Italian Sausage Penne Bake. Does your teen not have the time to come home for dinner before football practice? Fuel tonight's practice with a microwave-ready Fast and Fresh meal perfect for the after-school munchies, like the BBQ Pulled Pork and Pineapple Burrito.
See What's Cooking with Home Chef
HelloFresh
Back-to-School Deal: 16 Free Meals + 3 Surprise Gifts + Free Shipping
Highlights:

50+ weekly menu and market items
No commitment: skip a week of meals or cancel anytime!
Designed with recyclable materials

Best for Picky Eaters
HelloFresh's chefs really care about quality: before a new menu item can be approved for purchase, HelloFresh's culinary team tests it 200 times to make sure it's as delicious as it is easy to prepare.The HelloFresh team extends that same drive to its culinary creativity, creating over 50 menu items each week, giving you plenty of options to satisfy every family member, from your pickiest eater to your future culinarian.
HelloFresh is our pick for the Best Meal Kit for Picky Eaters, thanks to its diverse menu with easy-to-use recipe filters.
When it's time for your family to pick out next week's menu items, you can toggle the "Family-Friendly Filter" to take the guesswork out of the process. Toggle on, and all of your meal options become well-rounded crowd pleasers, featuring recipes that are delicious and simple. You can quickly select a few "palate-safe" options—such as Creamy Alfredo Pasta or Ancho BBQ Burgers—then remove the filter to seek out something more adventurous, such as the Shawarma Chicken Couscous Bowl.
Build Your First Box with HelloFresh
Factor
Back-to-School Deal: Back to School is Here! Enjoy $130 OFF Your First 6 boxes using code SKYBOX130
Highlights:

All meals are ready-made. Just heat and eat!
29+ dietician-designed, chef-cooked meals to choose from each week
Meals are nutritious with kid-friendly portions

Best Meal Kit for Ready-Made Dinners
The Factor team specializes in designing meals that work for everyone, with every meal made to be delicious, nutritious, and ready to eat in about three minutes or less. When the days (or weeks) are packed-to-the-gills busy, Factor's ready-made meals can provide you and your family with the nutrition you need while saving you a half hour or more in the kitchen each night.
Factor is our vote for the Best Meal Kit for Ready-Made Dinners, with every meal ready to heat and eat in three minutes or less.
Every Factor meal is microwave-ready, meaning you can serve a Tuscan Tomato Chicken, Bruschetta Shrimp Risotto, or a Teriyaki Chicken Burger in three minutes or less. If you're splitting your Tuesday evening between a volleyball practice, piano recital, and family game night, Factor means saving time without sacrificing flavor as you head out the door.
In addition to dinnertime, Factor meals can function as a great pack lunch for anyone in your family with access to a microwave. Instead of stacking sandwiches, chopping carrots, and balancing fruit cups, a Factor lunch can provide all of the balanced nutrition needed to power through the day.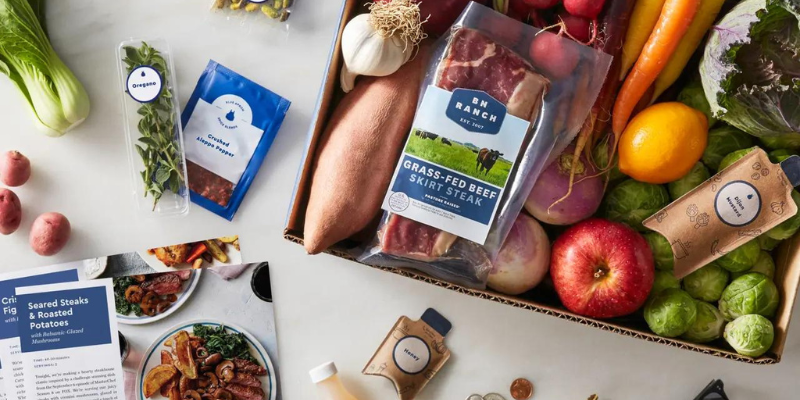 Blue Apron
Back-to-School Deal: $110 Off Across Your First 5 Orders + Free Shipping on Your First Order!
Highlights:

Fresh ingredients, with 80% shipped directly from producers
Easy-order directly from the app
Add-on desserts, breakfast foods, proteins, and snacks

Best Meal Kit for Eco-Friendly Favorites
Blue Apron hits all of the right notes of the traditional meal kit: fresh, never-frozen ingredients; pre-portioned meal kits shipped right to your door; and a huge selection of recipes.
We've rated Blue Apron as the Best Meal Kit for Eco-Friendly Favorites because of its commitment to fresh ingredients and recyclable packaging.
Blue Apron's 50+ weekly menu and market items are all designed with farm fresh ingredients. 80% of the ingredients packed in every Blue Apron box are shipped directly from the producers, meaning your family can feel good about the fruit, vegetables, and proteins on your plate. To further Blue Apron's eco-friendly mission, over 85% of Blue Apron's shipping materials are recyclable by weight, making it a feel-good option for families who care about the environment.
To make organizing next week's meals a little easier, Blue Apron breaks down its vast menu into various categories. Want your family to eat like you're dining out across the street? Try a night of Cheese Crisp Burgers from the Craft Menu. Want to make cooking as simple as heating your dinner in the oven? Order a Sheet Pan Cheesy Jalapeno Chicken from the Fast and Easy Menu.
EveryPlate
Back-to-School Deal: $1.49/Meal on 1st Box + 20% Off Next 2 Boxes
Highlights:

Every meal is ready in 30 minutes or less
Kid-friendly meals for comfort-food favorites
Filter choices by cleanup time, cook time, and more

Best Budget-Friendly Meal Kit
Everyplate works for almost every weekly schedule. Families can choose to receive three, four, or five entrees a week. Whether you'd like to have dinner figured out for you every weeknight or just for your busiest evenings, Everyplate has a plan for you. To add even more flexibility, Everyplate adjusts to your weekly needs: feel free to add more meals if you know you won't have time to grocery shop one week, have fewer meals the next, or even skip a week whenever you like.
Everyplate is our Best Budget-Friendly Meal Kit, with entrees averaging $4.99 per serving.
In addition to being one of the most cost-effective meal delivery companies, EveryPlate also is a leader in designing kid-friendly entrees. With an emphasis on American fare, most kids will be familiar with EveryPlate favorites: Caramelized Onion Burgers, Tomato Cream Chicken Linguine, and Dijon Mushroom Porkchops. Even the zanier recipes are reined in to comply with picky eaters, such as the Sweet Corn Flatbread or the Glazed Ginger-Scallion Pork Meatballs.
See What's on This Week's Menu
Want to See Even More?
In addition to our family-friendly list of meal delivery companies, we have additional parent-oriented recommendations for a variety of diets. Whether you're eating vegetarian, vegan, keto, Mediterranean, gluten-free, or otherwise, we're sure to have a list of top-rated meal delivery companies for you.